"

Michael Lyon – 'Love' -The opening vocal harmonies on this track set the stage for an engaging, meaningful track. The lyrics are transcendent and powerful. When you take it all together, you'll feel something like CSNY or Simon and Garfunkel. It's nice to hear that someone is keeping alive these type of classic folk harmonies. I'd love to learn more about the recording process of this incredible new folk tune." - Greg Jones
— https://www.eartothegroundmusic.co/2020/09/04/three-acoustic-folk-tunes-to-bring-you-calm/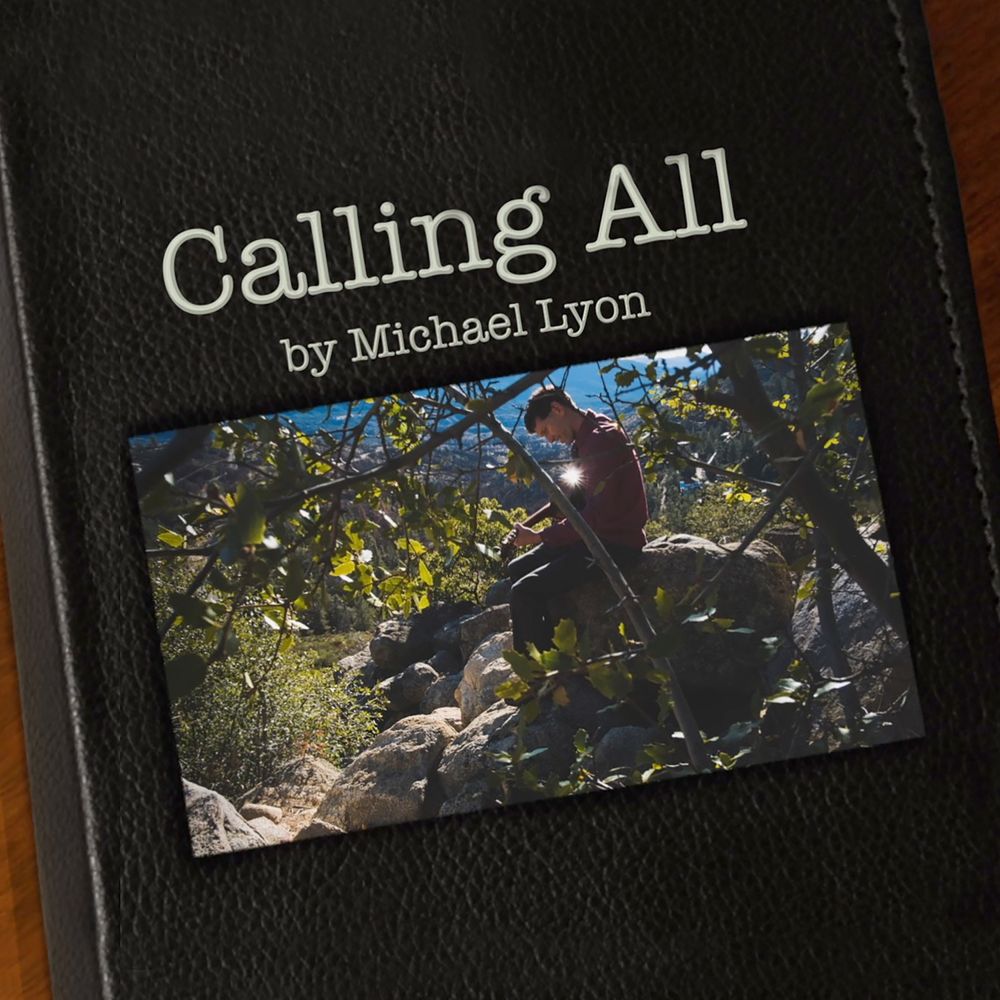 FEATURED in RATTLER MAGAZINE - https://www.rattlermag.com/home/michael-lyon-calling-all
Michael Lyon: "Calling All"
June 6, 2020
Michael Lyon has just released "Calling All", a song about what all of us have suddenly been volunteered to understand and follow through with at this defining moment of our lives:
Being called on to recognize that the enemy is not some other human being (perhaps uncomfortably different from you or me). Rather, it is a deadly virus causing a world of hurt in countless awful ways to many millions.
If we turn out to be wise enough to seize the moment, one big favor Covid 19 can do for us is bring virtually everyone together as one to defeat it.
The first step in understanding the enormity of what we're facing has been making the painful sacrifice of getting the hell out of the way of the virus — staying home as much as possible, often at staggering economic cost.
In watching heroes in the medical community (and many other walks of life) risk - and in many cases lose - their lives to protect the rest of us, it's becoming clearer than ever that each one of us also has a heroic part to play.
All of us are being called to protect and care for each other in ways unimaginable only several short months ago. Make no mistake: in answering this call, we absolutely can - and must - now set about changing the world for the better!
Continue answering the call, and keep up with Michael Lyon on social media:
https://www.facebook.com/MichaelLyonMusic/
https://www.instagram.com/mlyon777/
"

Michael Lyon – "Love" -The opening vocal harmonies on this track set the stage for an engaging, meaningful track. The lyrics are transcendent and powerful. When you take it all together, you'll feel something like CSNY or Simon and Garfunkel. It's nice to hear that someone is keeping alive these type of classic folk harmonies. I'd love to learn more about the recording process of this incredible new folk tune." - Greg Jones
Press Release
When Waking Up Turns To Joy 
Michael Lyon's new album, Waking Up, is a celebration of California pop and folk that explores what it means to be consciously "awakened." 
"This is a genuine artist and style... with a sound that surrounds us with that youthful imprint of innocence, wonder, and awareness." - Rooted Sounds 
LOS ANGELES, California - 2018 -- In the physical realm, awakening the human body each morning can be a challenge. However, for Michael Lyon, a rising California singer-songwriter, awakening one's mind through music and poetry is an entirely different experience. Within Lyon's latest release entitled, Waking Up, lies a myriad of melodic and mindful messages examining the entire process of wakefulness. Taking listeners on an uplifting trip through thirteen tracks, Michael Lyon demonstrates how Waking Up can turn into joy - in a hurry. 
Michael released his first full-length album called Pictures in 2016. It was the creative culmination of years of study as a musician, educator, as well as a singer/songwriter. While Pictures captured a snapshot of the external view of the human condition, the new album, Waking Up, looks inward. "This project began in earnest last winter when I was writing "Morning Song," explains Michael. He continues, "Digging deeper into the physical process of becoming alert and alive in the morning, it occurred to me to explore this theme beyond the literal sense." 
Michael Lyon's creative process made Waking Up morph into what he describes as, "A journey through the stages of greater awareness of nature, of love, and ultimately our inner-selves." Akin to the stages of falling asleep, Michael set out to reverse the process, making each successive track tie together in a progression.Waking Up travels upward, from the simplicity of the first short, softly-spoken title-track to the last tune, which urges on the listener to "Sing Your Song." The first two numbers being released are "Morning Song" and "What Were You Dreaming?" "Morning Song" with its retro-flavored, California-pop feel, does for the album what mornings often do as an adrenaline rush - for Michael and many-a-listener on the GO - a "time to hit the ground running." 
"What Were You Dreaming?" elevates wakefulness to the more metaphysical level of enlightenment. A recent trip to the tsunami-stricken areas of Japan inspired the piece. "This song reflects the surreal experience I had of my late father visiting me in a dream," offers Lyon. "What Were You Dreaming?" beckons the listener to consider how one's thoughts become realities. In this most poignant of songs on the album, Michael poses the questions, "What are you dreaming, what did you decide, which new horizons are opening wide?" For Michael Lyon, more important than getting to sleep on time is to ensure that humankind is awakening in time. Waking Up to joy isn't as hard as it might seem. It's a stirring daily adventure - one that begins by pressing "Play." 
CONTACT: 
Email: MLyon777@aol.com 
On the Web: 
MichaelLyonMusic.com
Reviews
Adobe and Teardrops
Review of Michael Lyon -- Pictures, Friday, July 21, 2017, by Rachel Cholst
http://www.adobeandteardrops.com/2017/07/michael-lyon-pictures.html
 I've been churning out two reviews a day to keep abreast of my to-do list and I'm still barely caught up. (There's now only a 2-month wait time between when I get a song and when I write about it here!) My point us, what makes it up here is a fraction of a percentage of all of the music I actually listen to. So when I came across Michael Lyon, I was immediately struck by the music's...purity. 
In Roxane Gay's essay "The Smooth Surfaces of Idyll" she writes: 
Happiness is not a popular subject in literary fiction. We struggle, as writers, to make happiness, contentment, and satisfaction interesting. Perfection often lacks texture. What do we say about that smooth surface of idyll? How do we find something for narrative to hold on to? Or, perhaps, we fail to see how happiness can have texture and complexity so we write about unhappiness. 
Michael Lyon does not have that problem. Pictures is whimsical and practically vibrating with contentment.  Unlike a lot of other similar music that crosses my Inbox, Pictures is simplistic in its emotional impact but not because the songs are. A lot of "happy" music I find tends to be a bit manic, almost certainly drug-induced, or childish. In Pictures, Lyon shows us that happiness just isn't that complicated.
Sonically, Pictures feels a bit like a throwback -- essentially, if Peter, Paul, and Mary had a jam session with Neil Diamond, here's what you'd get. Clear-eyed but with a sprinkling of kooky sound effects and interludes just to keep things interesting. Especially these days, Pictures allows us to put our burdens down for a moment and let life be uncomplicated and, even, enjoyable.
ROOTED SOUNDS  
Indie music reviews blog
Michael Lyon: "Pictures". A Singing to Life Through the Light of California 2017-01-15 / ROCKGARDENER1
https://rootedsounds.music.blog/2017/01/15/michael-lyon-pictures-un-canto-a-la-vida-a-traves-de-la-luz-de-california/
There was once an enthusiastic educator whose spirit overflowed with creativity and fraternal spirit, for he promoted in his students the thirst for knowledge, so that they themselves could flourish, expanding their consciousness; And he continues to do so, fortunately. However, this endearing Californian master named Michael Lyon, always had a great love, his great love - music, which was germinating and cultivating quietly inside to flourish and bear fruit in a radiant, mature and nutritious album titled Pictures 2016). It is an LP full of great songs, arranged and interpreted with simplicity and acoustic freshness, carrying a warm and highly energetic lyrical content, as only Michael knows how to do it (everything). For our singer-songwriter, as well as being a truly inspired composer and lyricist, he has a vast and profound musical background, which allows him to play all the instruments - including piano and violin - that sound in his songs, seasoned with beautiful vocal harmonies. But if an instrument stands out and is a hallmark of Michael's sound, this is the acoustic guitar that, as a natural extension of itself, always present, is the perfect accompaniment to his pleasant voice, which surrounds us with that youthful imprint of Innocence, wonder and awareness. As a background, we can feel the human being who is integrated into an abundant nature, varied and full of life, caressed by the fresh breeze and the warmth of the sun (Californian), seeing everything with the eyes of the heart, singing its simple and Universal wisdom. Without a doubt, this is a genuine artist and style, rooted, and not only because we perceive the aroma of folk and the brightest American pop of the sixties, but also because - beyond that - Lyon returns to popular music, The songs, their integrity or more natural and uplifting function, taking us back to the heart: the Earth and ours, inseparable, like Michael and his guitar. (English translation of original Spanish version below...)
Había una vez un entusiasta educador cuyo espíritu rebosaba creatividad y ánimo fraternal, pues promovía en sus estudiantes la sed de conocimiento, de manera que ellos mismos pudieran florecer, ampliando sus consciencias; y así lo sigue haciendo, felizmente. Sin embargo, este entrañable maestro californiano llamado Michael Lyon, siempre tuvo un gran amor, su gran amor -la música-, que fue germinando y cultivándose tranquilamente en su interior hasta florecer y dar fruto en un radiante, maduro y nutritivo album titulado Pictures (2016). 
Se trata de un LP repleto de grandes canciones, arregladas e interpretadas con sencillez y frescura acústicas, portando un cálido y altamente energético contenido lírico, como sólo Michael sabe hacerlo (todo). Pues nuestro cantautor protagonista, además de ser un compositor y letrista realmente inspirado,  posee una vasta y profunda formación musical, que le permite tocar todos los instrumentos -incluyendo piano y violín- que suenan en sus canciones, aderezadas con hermosas armonías vocales. Pero si un instrumento destaca y es seña de identidad del sonido de Michael, ese es la guitarra acústica que, como una extensión natural de sí mismo, siempre presente, es el acompañamiento perfecto para su agradable voz, que nos envuelve con esa juvenil impronta de inocencia, asombro y consciencia. Como trasfondo, podemos sentir al ser humano que se descubre integrado en una naturaleza abundante, variopinta y llena de vida, acariciado por la brisa fresca y la calidez del sol (californiano), viendo todo con los ojos del corazón, que canta su sencilla y universal sabiduría. Sin duda, estamos ante un artista y un estilo genuinos, enraizados, y no solo porque percibamos el aroma del folk y el pop americano más luminoso de los sesenta, sino también porque -más allá de ello- Lyon devuelve a la música popular, a las canciones, su integridad o función más natural y edificante, llevándonos de vuelta al corazón: al de la Tierra y al nuestro, inseparables, como Michael y su guitarra.
Listener/Customer feedback...
The album is so cinematic… felt like a beautiful story hour.  Your melodies and harmonies are so sweet & nostalgic… the lyrics are so hopeful, yet the music has a whisper of melancholy… resulting in a very rich and layered experience. Really beautiful work – BRAVO!!
You are now… my absolutely favorite singer/songwriter!!! Your music is WONDERFUL, FUN, UPLIFTING, INSPIRING.!!!! So proud of you!!!! Congratulations and Thank you thank you thank you.
  … if I could count all my blessings in this life, you would be in the top 10, as well as your CD!… You're a genius!
Love the words of this perfect song. Thanks so much.
Thank you so much for the incredible CD! It is so impressive and the tunes are so lovely ! It's going to be my new traffic-on-the-405 soundtrack – it will keep me positive and happy!!
I have now listened to all of your songs and re-listened to several. This CD is indeed an outstanding piece of work! When I was listening last night, I kept getting the feeling that I was listening to real artistry, real creativity. There is a lot of your personality in these songs and the sound is not derivative, but original.  I hear innocence, joy and a sense of adventure in your music. I think you are onto something…
I love it – it has such an air of happiness and joy. It's really beautiful stuff. So great – you are the best!!
What a marvelous CD!  You did all the instruments and sang with such artistry !  So glad to put it in my collection.
What a great album. I hear the Cat Stevens in there. I am impressed by the immediacy and honesty of this celebration. It is all you! There's no overreach or pretension. It is refreshing. Love seeing the pictures of friends and family. Many thanks for your ebullience!
In Bliss. Don't ever stop. You Michael have discovered the secret of life, in drinking the waters from its eternal brook. You need to share this secret with the world — you are our celestial pied piper — lead on and pray play on.
What a delight to receive your album!  I am so proud of you, Michael. I think my favorite songs so far are Hannah Rosie and Spring. Your love of life is infectious, and it comes through in your music.
Michael, your music brings the love, laughter, peace, and joy the world so desperately needs. Keep harmonizing great sounds for the world to hear.
I LOVED it!… This so you, all of who you are, where you've been, what you have done, are doing, will always be… I LOVED it! I loved its originality – the  public announcement intermission, the heart-to-heart without music, and, of course, the music itself, so reminiscent of the show tunes and other musical genres that I know have influenced you all thru the years…
I had no idea the level of your talent.  Congratulations.
Thank you from my heart… I love the positive message & energy of your work. I found myself swaying & dancing to Clear Blue Sky.
Your CD — what a great surprise! It's excellent, touching in so many ways, and a lot of work. The title, Pictures, is so perfect. I am so impressed with your voice, your piano, your music, all your words, so wonderful...